Mary & Kin, a couple from Vancouver, Canada, they wanted to see as much as possible when they were passing through Porto. Unfortunately Mary had a problem with her knee that caused some difficulty to walk. But we did not want them to lose anything to see in Porto, and from there, we spoke with Romeu, PorTuk's owner and together we created a program as it proved to be the perfect solution for this nice couple to get to know Porto in the best way.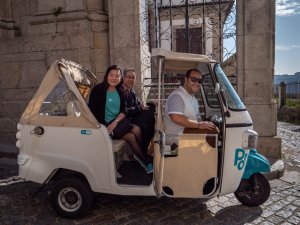 We visited the main viewpoints, enjoyed multiple examples of street art, the beautiful and famous tiles of Carmo's church and S. Bento Railway Station, we cross the most beautiful and hidden streets in the old part of town, we had a  nice coffee in a terrace looking to the Douro's river, we bought the best Porto's chocolates in the famous Arcadia and we had a cream cake (pastel de nata) along the way until we finished the photo tour in the "majestic" Café Majestic.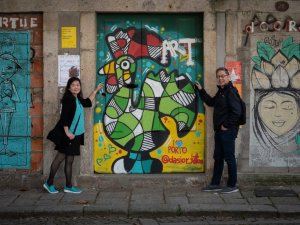 This experience went so well that Romeu and I will establish a partnership and create a tour specifically with these characteristics and thus offer more to a greater number of people joining the indispensable photographs to a charming way of traveling.